Machine Repair Turnaround Times
Kimberbell May Flowers Bench Pillow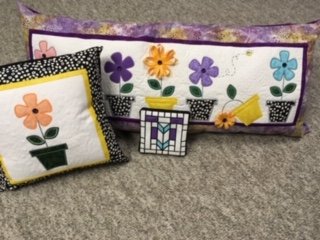 Yankee Doodle Dandy Flag Quilt
Beginning Sewing - Feb 27, 2019 09:30 am

This class is an absolute basic beginners class. This is a 4 week class. We will teach you about your sewing machine and the stitches your machine can do. You will also learn how to read and construct patterns. In this course you will learn to make a pillow case, an apron and a bag with a zipper. Consider signing up for "Lets Sew Some More" class. In this class you will work more into Garmet sewing, buttons, zippers and more.

Cost: $ 25.00
EVERYDAY SCRAPPY PATCHES TOTE - Mar 09, 2019 09:30 am

This nice size bag is a Super Size that you will love...and!! You can use all of those scraps you don't know what to do with!!

Cost: $ FREE
Lil Twister Tote Bag - Mar 14, 2019 05:30 pm

Learning new techniques with a new ruler

Cost: $ 40.00
Let's Sew Some More! - Mar 27, 2019 09:30 am

this is a 6 week class that will focus on garment sewing and learning to read patterns and new techniques

Cost: $ 25.00
Barn Quilt - Mar 30, 2019 09:30 am

Design and Paint your very own Barn Quilt

Cost: $ 85.00
STRIP TEASE CLUB! - Sep 28, 2019 09:30 am

Join our club and Strip with us!!